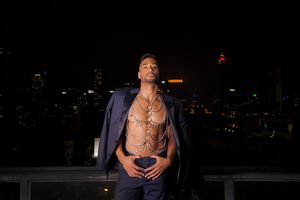 Bio
Aidan has an ability to tap into an emotional element with his music his energy is contagious stage.   Aidan is funny, deep, soulful and electric with his dance moves.  To put it simply, there's a certain magic you feel when he's on stage.   
    
In person, Aidan is educated and genial while his voice has been described as haunting, warm, soulful, expressive, emotional and moving – compared to the likes of Donny Hathaway, Usher and George Michael.  
Aidan Rivera, is a multi-talented artist from Puerto Rican and African American heritage. He left his hometown of Dallas, Texas in February of 2007 to be the lead male vocalist in an FW Productions show entitled JAMBALAYA. It was at this time where he began to explore his vocal abilities and shortly thereafter decided to take residence in Miami.​​​ 
​  
While in Miami, he began to steer toward songwriting and began collaborating with R&B, dance, hip-hop and pop music producers from all over the globe. Aidan is a powerful lyricist, empathetic and passionate about the music he writes and his ability to intimately connect with his audience is profound and interconnected.  
​  
Aidan now finds himself living down under in Sydney, Australia writing and recording new material to release in 2023. Expect phenomenal vocal arrangements, very catchy grooves and wonderful performances!